MOTTARONE TREKKING AND FUN OVER LAKE MAGGIORE
This pleasant itinerary is connected to Baveno Monte Mottarrone, and goes back up the sides of the mountain to a height of 1491, crossing woods and grazing fields always remaining within the grasp of the phenomenal of wide views Lake Maggiore.
The summit of the mountain is easily reachable also by using the cable car Stresa-Alpine-Mottarone. The area on top is equipped with restaurants and refuges.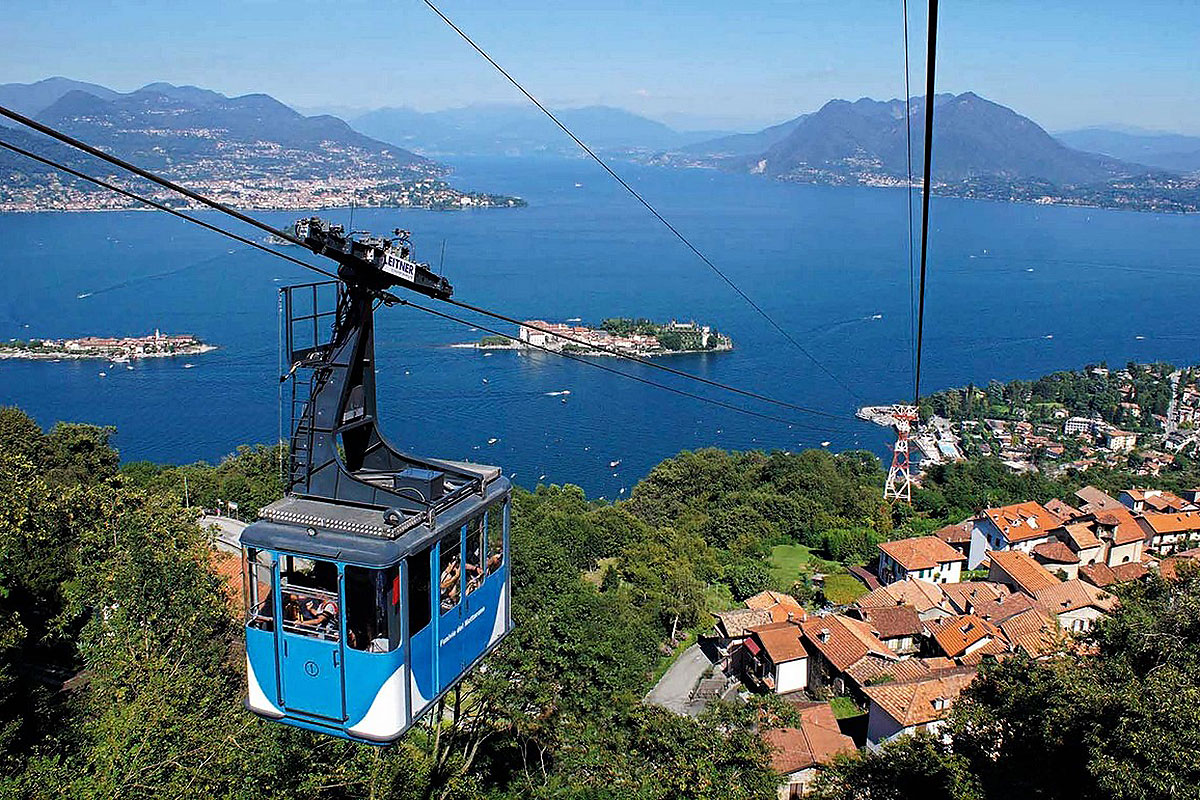 The beautiful panorama of the Mottarone cable car
Don't miss to have fun with your frieds and family at ALPYLAND, an adventure park with alpine coaster that is 1200m long and 100m high with a beautiful panorama of the Maggiore lake.
---
WHAT TO VISIT IN STRESA AND MOTTARONE AREA
IN THE MOTTARONE AREA:
1. Trek to Monte Mottarone from Baveno or easily reachble by funicular from Stresa.
2. Fun with friends and family on the alpine coaster of the Alpyland park.
3. Book a beautiful guided tour in MTB on the Mottarone - by Yakki.
4. Enjoy typical food in a mountain house of Mottarone.
5. Take your best panoramic selfie from the top of Mottarone.
IN THE NEARBY REGION:
1. Visit Stresa and the beautiful Borromean Islands.
2. Don't miss the adrenaline of Lake Maggiore Zip line.
3. Visit Villa Taranto in Verbania.
4. Reach the Santa Caterina del sasso hermitage.
5. Stop off at Arona town centre and see the enormous statue of San Carlo Borromeo
6. Don't miss to visit Ascona, Locarno and the valleys of Tessin.
7. Spend a day at Lake Orta.
8. Book the Lake Maggiore Express: a day trip which includes boat trip to Locarno and the famous 'cento vallino' train ride.
EXCLUSIVE EXCURSIONS AND ACTIVITIES IN THE AREA
INFO AND BOOKING
---
WHERE TO SLEEP IN STRESA - HOTELS, B&B, APARTMENTS
Stresa offers a large hotels and holiday houses. It is possible to find an accomodation in the town or in the panoramic villages of the lake.
Thanks to pictures, facilities informations and reviews, You can check easly the availability of Hotels, B&B and Holiday Houses in Stresa and book the best solution for You, using this link:
BOOKING - HOTELS B&B HOLIDAY HOUSES IN STRESA
---
HOW TO GET TO THE MOTTARONE AND ALPYLAND

Mottarone is the mounatin above Stresa that is located in Italy, on the west side of Maggiore lake. Stresa is connected and accessible by train, bus and with the boat service of the lake.
To reach the top of Mottarone and Alpyland, we advise you to park at the parking area of Carciano in front of the Cable car to Monte Mottarone. Here you can buy a ticket to of the cable car to Mottarone.
It is possible to combine a visit of the Borromean islands that are open in spring and summer months from March to October. We recommend you visit during spring flowering season.
FLIGHT CONNECTIONS: Check here for your flight on:
BGY - Bergamo Orio al serio airport 1,30h
MXP - Milan Malpensa airport 0,30h
LIN - Milan Linate airport 1,00h
ZHR - Zurich airport 3,30h
---
DON'T MISS THIS SITE OF THE ALPS
SAVE IT NOW. It is Easy! Just Log-in your MyAlps personal area and then Add it to your MyExplorAlp Wishlist using the follow botton:
Are You not registered to Myalps yet? Do it here: MyAlps
---
DO YOU HAVE QUESTIONS OR SUGGESTIONS ABOUT MOTTARONE AND ALPYLAND?
CONTACT US NOW or let Your precious comment or suggestion in the follow Comment Form of this page.