MOUNT RIGI LUCERNE LAKE PANORAMIC POINT
Thanks to its breath-taking panoramic view across the Alps, it array of hiking options and adventures trips to choose from, Mount Rigi is known as "the queen of the mountains ".
The two cog railway from Vitznau (Europe's first cog railway back in 1871) and Goldau, together with the panorama cable car from Weggis, make the journey up the mountain alone a truly unforgettable experience.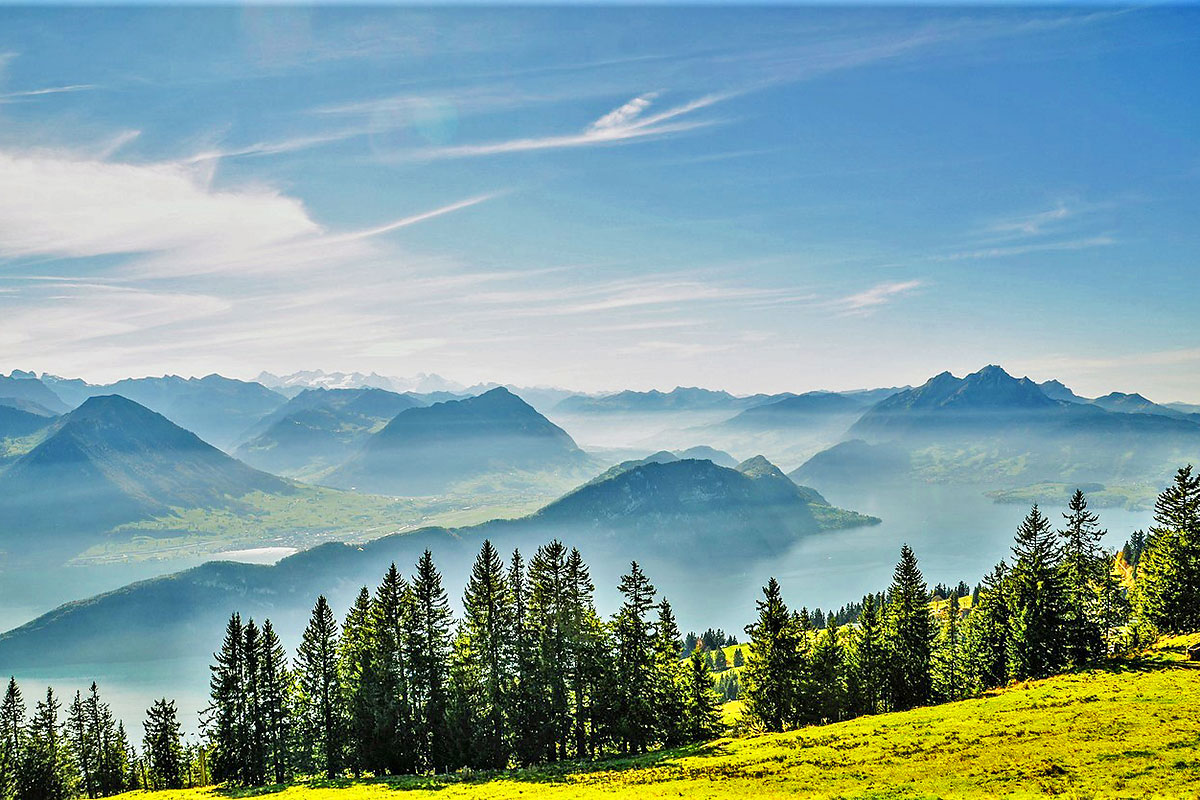 Rigi is a mountain for all seasons and a perfect place for families and kids.
---
WHAT TO VISIT ON THE MOUNT RIGI AND IN THE NEARBY REGION
1. Reach the mount Rigi with the Cable Car or the Funicular. The best panoramic point of Lucerne Lake.
2. Relax in the Rigi Kaltbad Therme.
3. Adrenaline and Landscape. Take off with a paraglinding from the mount Rigi.
4. Spent a winter day of fun skiing with the view of the Lucerne lake.
IN NEARBY REGION
1. Treat yoursel like a royalty having a drink at Sunset, in the famous park of the 5 stars hotel Vitznau.
2. Visit the lake town of Weggis.
3. Don't miss the Festival of the Roses "Rosenfest" of Weggis, every July.
4. Book a cruise on the lake and visit Lucerne with its famous bridge Kapellbrucke.
EXCLUSIVE EXCURSIONS AND ACTIVITIES IN THE AREA
INFO AND BOOKING
---
WHERE TO SLEEP ON THE MOUNT RIGI AND IN THE AREA OF WEGGIS - HOTELS, B&B, APARTMENTS
The mount Rigi and the typical town of Weggis offer hotels and holiday houses. It is possible to find an accomodation alsor in other panoramic villages of the lake.
Thanks to pictures, facilities informations and reviews, You can check easly the availability of Hotels, B&B and Holiday Houses in Weggis and book the best solution for You, using this link:
BOOKING - HOTELS B&B HOLIDAY HOUSES ON THE MOUNT RIGI AND IN WEGGIS
---
HOW TO GET TO THE MOUNT RIGI
Located on the east part of the Lucerne lakes, Weggis is reachble by car driving on the panoramic 2b road. From Weggis you can reach the Mount Rigi by Cable car or by train from Viztnau.
We suggest to you to reach Weggis by boat from Lucerne and the the top of Mount Rigi.
FLIGHT CONNECTIONS: Check here for your flight on:
ZHR - Zurich airport 1,00h
BSL - Basel airport 1,30h
GVA - Geneve airport 2,30h
---
DON'T MISS THIS TOWN OF THE ALPS
SAVE IT NOW. It is Easy! Just Log-in your MyAlps personal area and then Add it to your MyExplorAlp Wishlist using the follow botton:
Are You not registered to Myalps yet? Do it here: MyAlps
---
DO YOU HAVE QUESTIONS OR SUGGESTIONS ABOUT THE MOUNT RIGI?
CONTACT US NOW or let Your precious comment or suggestion in the follow Comment Form of this page.