THE MUSEGG WALL OF LUCERNE
The celebrated city walls with their nine towers form part of the historic fortifications built around Lucerne from the 13th century. The wall is still almost entirely intact.
Four of the Musegg Towers are open to the public; the Zytturm in particular, is well worth a visit, for it houses the city's oldest clock, built in 1535 by one Hans Luter. It is allowed to chime every hour one minute before all the city's other clocks.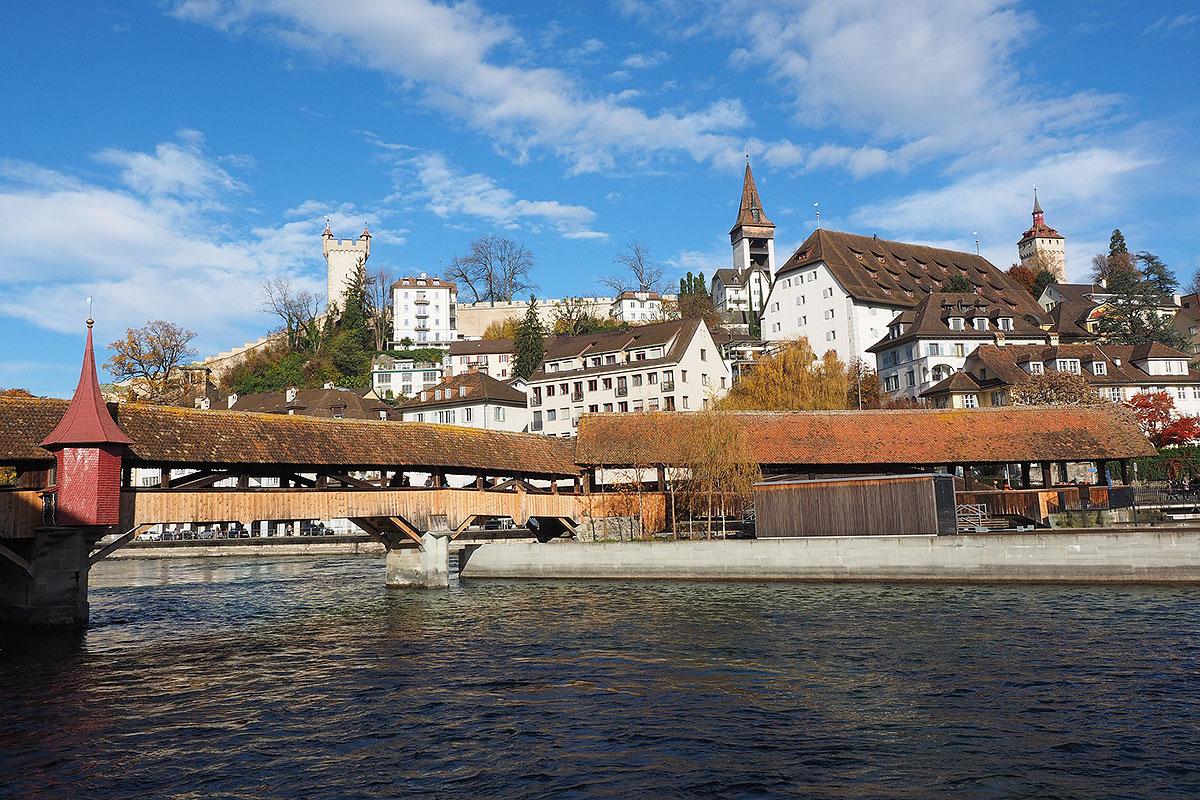 A medieval feeling, discovering the historic fortifications of Lucerne

From the three publicly accessible towers you can enjoy a beautiful view of the city and the lake.
CLOSE TO OUR HEARTS
"The beautiful view over the city of Lucerne, the surrounding mountains and the lake"
---
WHAT TO VISIT IN LUCERNE AND IN THE NEARBY REGION
IN THE CITY:
1. Cross the river walking on the symbol of Lucerne, the Kapellbrucke.

2. Discover the historical fortifications of the city, the Musegg Wall.

3. Visit the new architecture of the KKL culture and congress center.
4: Enjoy a drink in a bar in front of the lake
5. Walk in the historical center with painted facades.
IN THE NEARBY REGION:
1. Buy a ticket for a beautiful cruise on the Lucerne lake (Vierwaldstattersee).
2. Take the best picture of the Lucerne lake, from the top of the panoramic Mount Pilatus..

3. Don't miss to visit Weggis the "Riviera" of the Lucerne lake.
4. A damily day trip in the nature on the Mount Rigi.
EXCLUSIVE EXCURSIONS AND ACTIVITIES IN LUCERNE
INFO AND BOOKING
---
WHERE TO SLEEP IN LUCERNE - HOTELS, B&B, APARTMENTS
Lucerne offers a large number of hotels and holiday houses. It is possible to find an accomodation in the city or in the panoramic villages of the lake.
Thanks to pictures, facilities informations and reviews, You can check easly the availability of Hotels, B&B and Holiday Houses in Lucerne and book the best solution for You, using this link:
BOOKING - HOTELS B&B HOLIDAY HOUSES IN LUCERNE
---
HOW TO GET TO LUCERNE

LUCERNE is located in the center of Switzerland. It is well connected and accessible by pubblic transport.
FLIGHT CONNECTIONS: Check here for your flight on:
ZHR - Zurich airport 1,00h
BSL - Basel airport 1,30h
GVA - Geneve airport 2,30h
---
DON'T MISS THIS SITE OF THE ALPS
SAVE IT NOW. It is Easy! Just Log-in your MyAlps personal area and then Add it to your MyExplorAlp Wishlist using the follow botton:
Are You not registered to Myalps yet? Do it here: MyAlps
---
DO YOU HAVE QUESTIONS OR SUGGESTIONS ABOUT MUSEGG WALL?
CONTACT US NOW or let Your precious comment or suggestion in the follow Comment Form of this page.