THE PANORAMIC PFANDERSPITZE AND THE ALPEN WILDPARK

The Mount Pfander (Pfanderspitze) is the panoramic balcony of the Constance lake. The new cable car (Pfänderbahn) will wizz you off to the up station where you may savour the magnificent view of the region. Another option would be to walk there, following the path which leaves from the city centre.
Just beside the arrival station you can visit the free "Alpen wildpark", with typical Alpine animals in a quiet reserve area.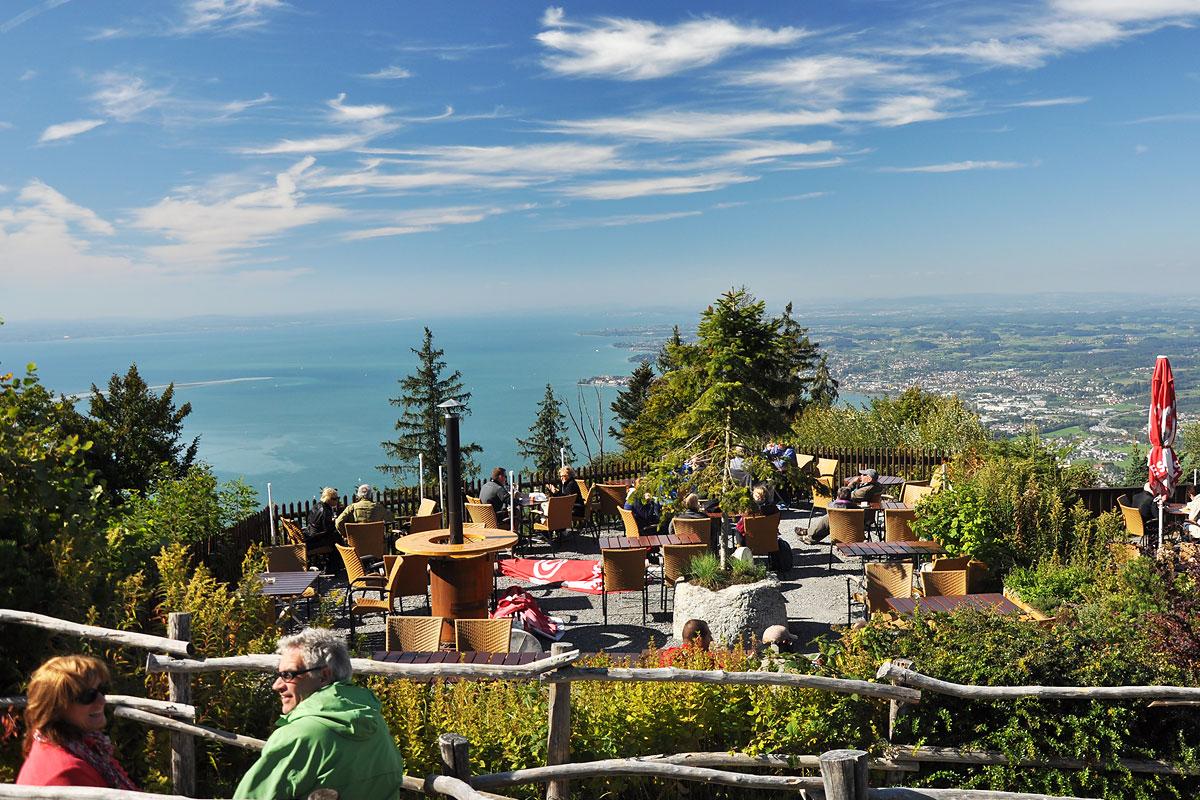 The best place with the family to enjoy a panoramic view of Lake Constance - Bodensee

Just walking 15min from the cable car station you will reach easily the top of the Pfanderspitze, just beside the mountain huts where is possibile to enjoy a fresh beer and a typical alpine meal.
CLOSE TO OUR HEARTS

"The panoramic view of the lake Constance - Bodensee and a drink on the terrace close to the top of the Pfanderspitze."
---
WHAT TO VISIT IN BREGENZ AND IN THE CONSTANCE LAKE REGION
IN THE CITY:
1. Walk on the Lake promenade.

2. Discover and shopping in the city center, Kornmarkstrasse and Rathausstrasse.
3. Kunsthaus modern architecture and art exibithion.
4. Book a ticket for the Bregenz Festspiele art festival.
IN THE NEARBY REGION:
1. A cruise on the Constance lake.
2. Pfander cable car and panoramic point with the Alpine wild park.

3. Lindau one of the most beautiful village of the Constance lake.
4. Historical center and Castle of Feldkirch.
5. Appenzeller Helibad, quite and cosy therme on the hills with the panoramic view of the Constance lake.
---
WHERE TO SLEEP IN BREGENZ - HOTELS, B&B, APARTMENTS
Bregenz offers a large number of hotels and holiday houses. It is possible to find an accomodation in the city or in the panoramic villages of the area.
Thanks to pictures, facilities informations and reviews, You can check easly the availability of Hotels, B&B and Holiday Houses in Bregenz and book the best solution for You, using this link:
BOOKING - HOTELS B&B HOLIDAY HOUSES IN BREGENZ
---
HOW TO GET TO BREGENZ

Bregenz is located in the Austrian part of lake Constance - Bodensee. It is well connected and accessible by pubblic transport. It easly reachble by car from Austria, Liechtenstein, Switzerland and Germany.
FLIGHT CONNECTIONS: Check here for your flight on:
ZHR - Zurich airport 1,30h
FDH - Bodensee airport 0,30h
MUC - Munchen airport 2,00h
---
DON'T MISS THIS SITE OF THE ALPS
SAVE IT NOW. It is Easy! Just Log-in your MyAlps personal area and then Add it to your MyExplorAlp Wishlist using the follow botton:
Are You not registered to Myalps yet? Do it here: MyAlps
---
DO YOU HAVE QUESTIONS OR SUGGESTIONS ABOUT THE PFANDERSPITZE?
CONTACT US NOW or let Your precious comment or suggestion in the follow Comment Form of this page.