PREDA BERGUN THE FAMOUS TOBOGGAN TRACK OF THE ALBULA PASS
Directly from St. Moritz or Thusis is possible to reach the small village of Preda and the famous toboggan track of full excitement on wooden sledges.
After a short train ride on the UNESCO train to Preda, you can start the 6km sledging track to the charming town of Bergün.
So, all you have to do it to take the train in the direction of Albula-Chur and get off at Preda. If you have reserved the sledges, when you purchased the ticket, you will be able to collect them at the little wooden hut in front to the train stop at Preda by showing them your id card.
After aprox 5 mins on foot, you'll see the beginning of the run which descends on a slope of 6 km reaching Bergun.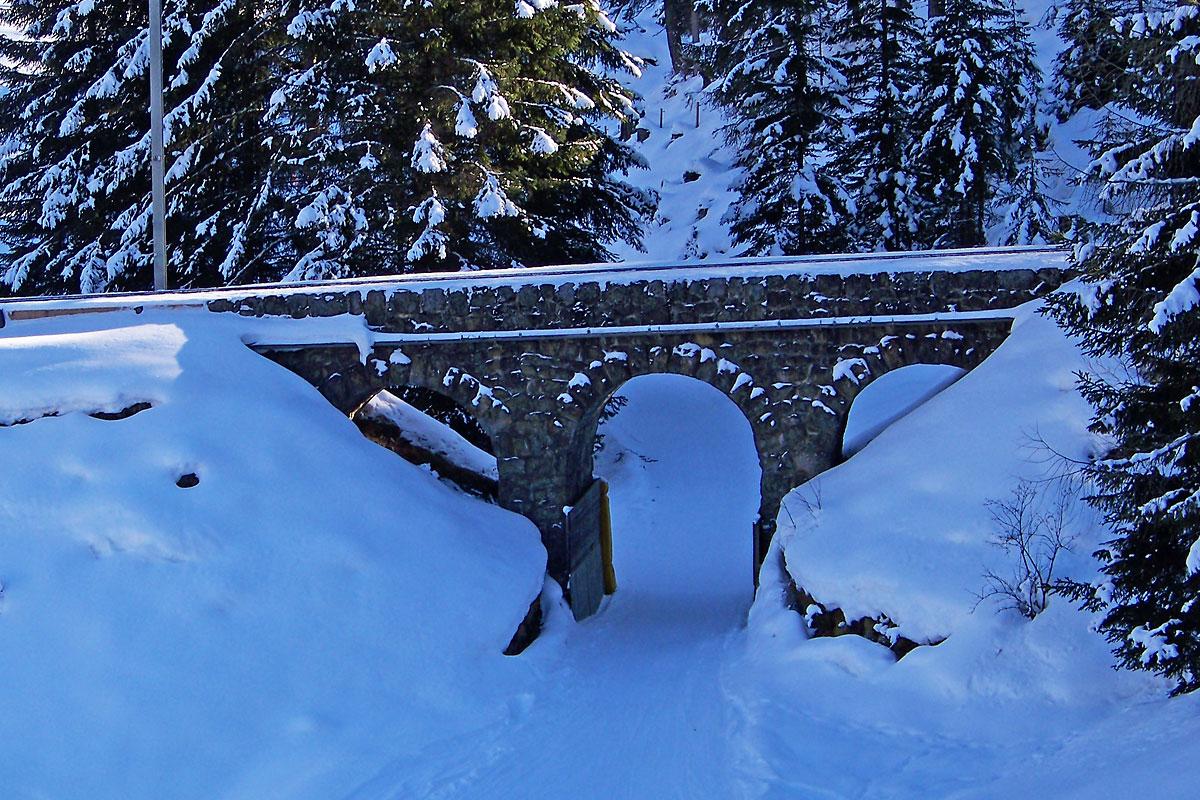 The slope is lit up every night except Monday. It's easy, so it is quite doable even for kids (helmet advisable).
In case, you want to do the run a second time or return to St. Moritz, you will have to walk through Bergun (very pretty) to get back to the train station. You will be able to give back your sledge if you have rented it, in one of the member shops.
Otherwise, if you want to try the faster run, once you have finished the first slope, take the seat lift which you will find on the right of the arrival and go up to Darlux. From here, you can expect a mind-blowing run not appropriate for kids, if not accompanied.
HOLIDAY IN THE CHARACTERISTIC ALPINE VILLAGE OF BERGUN
Bergün is almost free of cars during the winter time, only a lot of sledges and people enjoing this quite and chracteristic town, sitting in front of an ice bar or having a dinner in an historical hotel.
In summer is possible, from Bergün, to reach the Engadin valley and St. Moritz driving or biking across the wild and epic Albula pass.
---
WHAT TO DO IN PREDA BERGUN AND IN THE NEARBY REGION
IN THE VILLAGE
1. Full excitement on wooden sledges from Preda to Bergun.
2. Walk through the historical center of Bergun and visit the reformierte church.
3. Visit the Bahn museum of Albula at the Bergun train station.
4. Ski with kids in Bergun and Darlux.
IN THE NEARBY REGION
1. Drive to the Albula pass and epic and historical road of the Alps.
2. Buy a ticket for the Glacier express and Bernina express.
3. Skateline Albula, an ice-skating itinerary of 3km from Alvenuebad to Suruva.
4. Enjoy your holiday in the touristic villages of Savognin and Lenzerheide.
5. Discover the nature in the national Parc Ela.
6. Relax in the therme of Alvaneubad.
7. Hike on the log and historical trails of Via Septimer.
8. Ski, Freeride and Trekking in Bivio and in Engadin.
9. Septimer historical Trail a long trekking from Chur to Chiavenna.
10. Chur the capital of Graubunden, with its historical center.
---
WHERE TO SLEEP IN BERGUN - HOTELS, B&B, APARTMENTS
Bergun is a mountain town and offers hotels and holiday houses. It is possible to find an accomodation also in others villages of the Albula valley.
Thanks to pictures, facilities informations and reviews, You can check easly the availability of Hotels, B&B and Holiday Houses in Bergun and book the best solution for You, using this link:
BOOKING - HOTELS B&B HOLIDAY HOUSES IN BERGUN
---
HOW TO GET TO PREDA BERGUN
Located in the Albula valley, Bergun is reachble by car from Chur and St. Moritz, in winter the Albula pass is closed. By train from Chur - Thusis or St. Moritz.
FLIGHT CONNECTIONS: Check here for your flight on:
ZHR - Zurich airport 2,30h
MXP - Milan Malpensa airport 3,00h
LIN - Milan Linate airport 3,30h
---
DON'T MISS THIS SITE OF THE ALPS
SAVE IT NOW. It is Easy! Just Log-in your MyAlps personal area and then Add it to your MyExplorAlp Wishlist using the follow botton:
Are You not registered to Myalps yet? Do it here: MyAlps
---
DO YOU HAVE QUESTIONS OR SUGGESTIONS ABOUT PREDA - BERGUN?
CONTACT US NOW or let Your precious comment or suggestion in the follow Comment Form of this page.