ST. MORITZ ENGADIN ELEGANT ALPINE SCENARY
St. Moritz is located on the upper side of the Engadin valley, famous for its impressive, unspoilt Alpine scenery.
The combination of lakes and mountains offer amazing skylines all yearlong, but during the winter season the magical winter land atmosphere of the snow in combination with all the winter activities and events, make it unique in the Alps.
A skier's paradise because of the four large and varied ski areas of Corviglia/Piz Nair, Corvatsch, Diavolezza/Lagalb and Zuoz, with 350km of slopes waiting to be explored.
Each area has slopes for all levels, modern lifts and a great choice of restaurants, some of them with spectacular panoramic views over the highest mountains and glaciers.
Guests from all over the world appreciate St. Moritz for the modern Alpine lifestyle, characterised by top-class restaurants able to satisfy gourmet requests even on the slopes. Here Hotels, set standards in all categories and events of international calibre.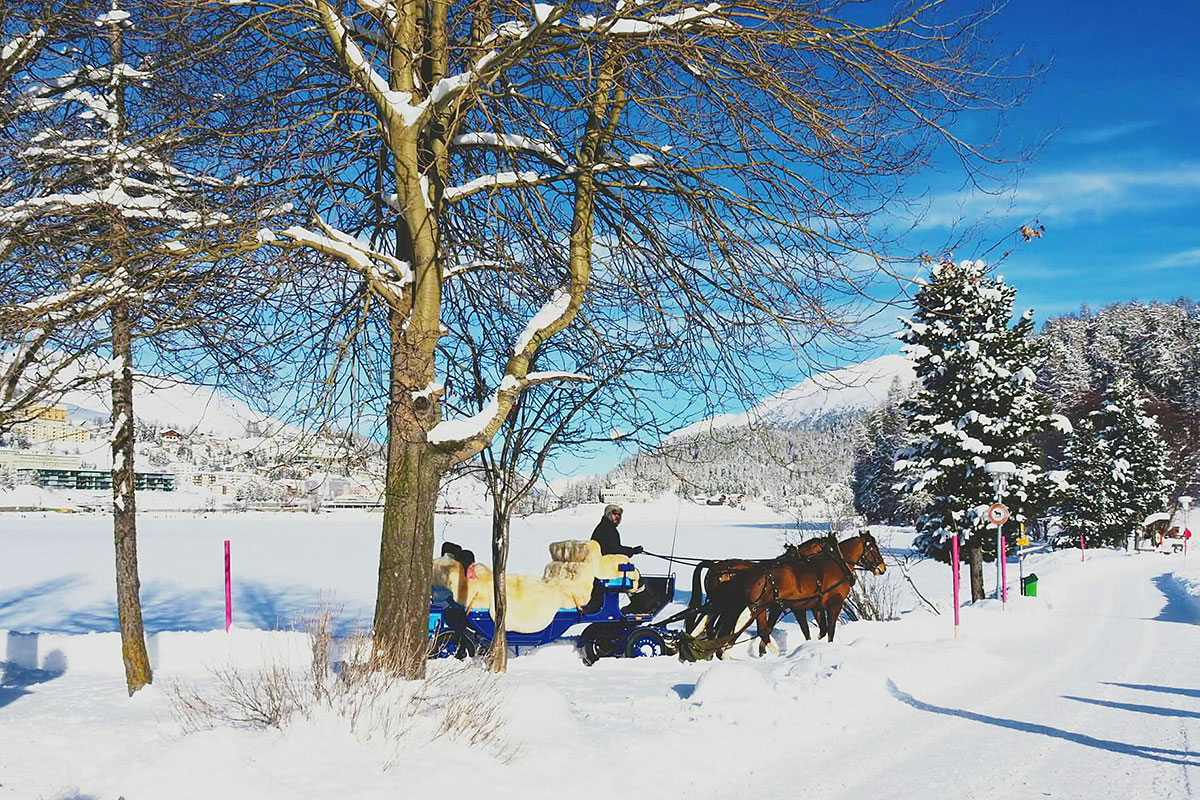 "We have had the fortune of visiting St. Moritz many times and admit that if you arrive there for the first time, imagining to find a typical tranquil Alpine village, of wooden and stone chalets with Engadin façades, you may be in for a surprise / a little disappointed. St. Moritz is a world in itself, multi-million franc modern constructions, residential complexes of varying heights, bars, clubs, high end shops and luxury hotels.
But this is also part of the allure of St. Moritz : strolling in the center you perceive an exclusive air about this place, it has been a meeting place for the jet set for over 150 years."
Fabio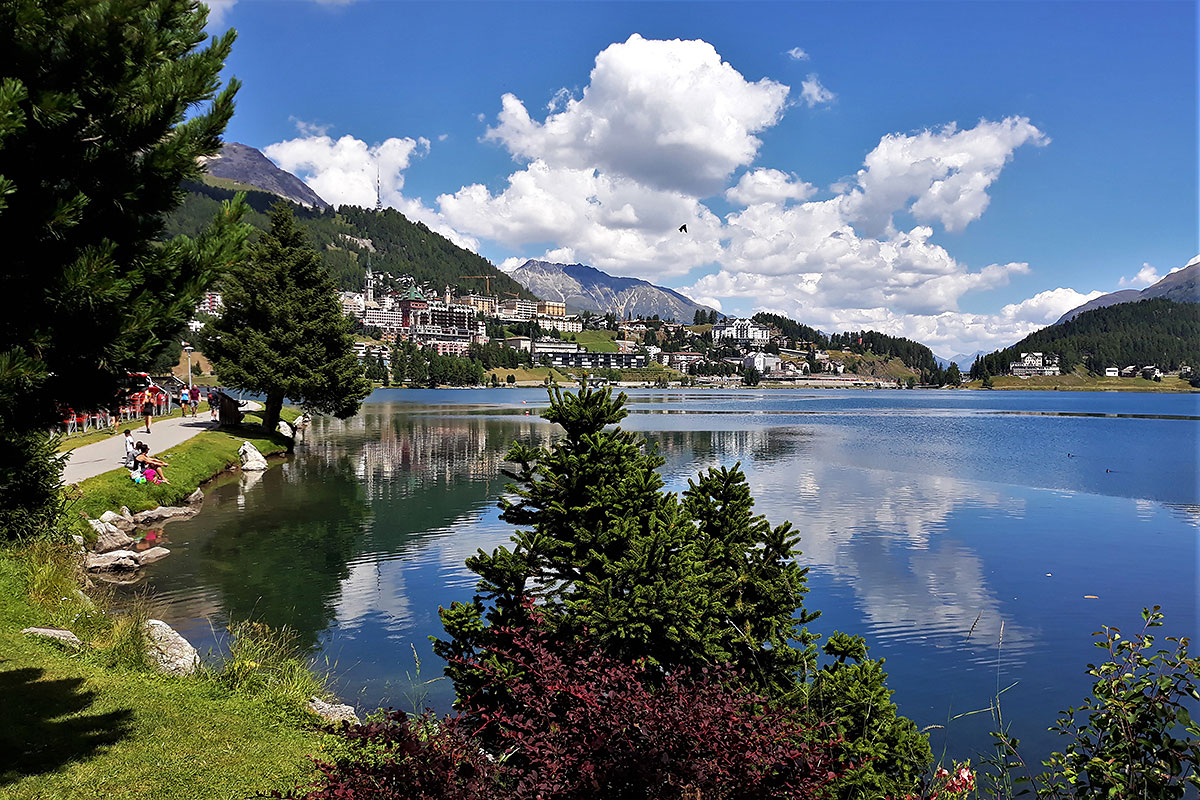 At the same time, its quite evident why St. Moritz has become so celebrated: Frozen lakes embraced by centuries old woods, kilometers of immaculate slopes, breathtaking views, equipment and services to satisfy the standards of even the most demanding clients. From The Top of the World.
For shopping lovers, the Via Serlas guarantees great shopping in a limited space. Via Serlas is located in the center of the old St. Moritz and is not only Europe's highest shopping avenue, it also boasts the highest density of top brands.
The excitingly fashionable Alpine shopping scene entices you to purchase in boutiques, traditional sports outlets, souvenir, gift shops and exclusive delicatessens.
WHAT TO DO IN ST. MORITZ AND IN THE NEARBY REGION
IN THE VILLAGE
1. Shopping in the luxury Via Serlas.
2. Ski fun on the slopes of the Corviglia ski area.
3. Winter Bob rides for visitors. An adrenaline experience on the oldest bobsleigh run in the world.
4. Save the date of the Snow Polo world cup on the frozen lake of St. Moritz.
5. Enjoy a romantic ride in a horse-drawn sleigh or carriage one the frozen lakes.
6. Visit the Segantini Museum of the important artist of Realistic Symbolism Giovanni Segantini.
7. Relax in the new and modern St. Moritz Swimming pool and Spa or in the smaller and cosy wellness centers of Samedan and Pontresina.
IN THE NEARBY REGION
1. Engadin ski pass - a unique ski pass to use pubblic trasport and to ski on the diffrents slopes areas of the valley, Corviglia, Diavolezza, Corvatsch and more.
2. Save the date of the country Ski Marathon one the frozen lakes of Engadin.
3. Reach Muottas Muragl the best panoramic point of St. Moritz and the Engadin.

4. Book a ticket of the Glacier express or the Bernina Express.
5. Friday night skiing on the slopes of the Corvatsch ski area.
6. Ski trail, Freeride, MTB and Trekking around Engadin.
---
WHERE TO SLEEP IN ST. MORITZ - HOTELS, B&B, APARTMENTS
St. Moritz is a mountain luxury resort and offers a lot of hotels and holiday houses. It is possible to find an accomodation also in others villages of Engadin.
Thanks to pictures, facilities informations and reviews, You can check easly the availability of Hotels, B&B and Holiday Houses in St. Moritz and Engadin and book the best solution for You, using this link:
BOOKING - HOTELS B&B HOLIDAY HOUSES IN ST. MORITZ
---
HOW TO GET TO ST. MORITZ
Located in Switzerland the center of Engadin valley, St. Moritz is reachble by car and is connected by pubblic busses. It is possible to reach St. Moritz also by train from Thusis with the Glacier Express, or from Tirano (IT) with the Bernina Express.
FLIGHT CONNECTIONS: Check here for your flight on:
ZHR - Zurich airport 3,00h
MXP - Milan Malpensa airport 3,00h
LIN - Milan Linate airport 2,45h
St. Moritz Engadin has a small airport located in Samedan available for private jets only.
---
DON'T MISS THIS TOWN OF THE ALPS
SAVE IT NOW. It is Easy! Just Log-in your MyAlps personal area and then Add it to your MyExplorAlp Wishlist using the follow botton:
Are You not registered to Myalps yet? Do it here: MyAlps
---
DO YOU HAVE QUESTIONS OR SUGGESTIONS ABOUT ST. MORITZ?
CONTACT US NOW or let Your precious comment or suggestion in the follow Comment Form of this page.