WHITE TURF HORSE RACING ON ST. MORITZ'S FROZEN LAKE
The world famous horse racing event held on St. Moritz's frozen lake dates back to 1907.
Over 35,000 spectators flock to the frozen lake of St. Moritz on 3 consecutive Sundays in February, to witness the excitement and thrill of the races, against the magnificent backdrop of the Engadin mountains.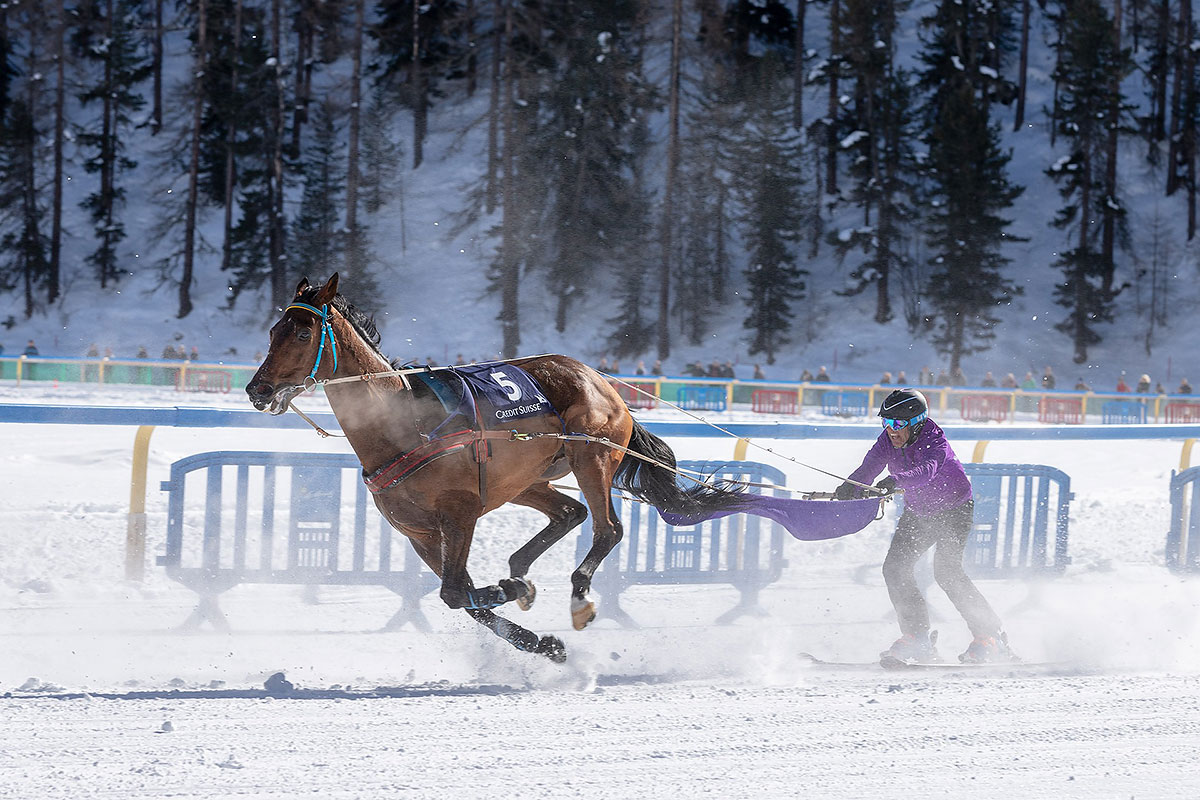 Racing events include: galloping, jumping hurdles, or canterting but skijöring is a race invented here in St. Moritz, invariably a favourite with the crowds.
Admission to the White Turf Village, with standing places, costs around: CHF 25.00. Box seating admission from CHF 45.00 to CHF 85.00.
The combination of sport and fun with the magical winter land atmosphere of the snow make this event unique in St. Moritz.
---
WHAT TO DO IN ST. MORITZ AND IN THE NEARBY REGION
IN THE VILLAGE
1. Shopping in the luxury Via Serlas.
2. Ski fun on the slopes of the Corviglia ski area.
3. Winter Bob rides for visitors. An adrenaline experience on the oldest bobsleigh run in the world.
4. Save the date of the Snow Polo world cup on the frozen lake of St. Moritz.
5. Enjoy a romantic ride in a horse-drawn sleigh or carriage one the frozen lakes.
6. Visit the Segantini Museum of the important artist of Realistic Symbolism Giovanni Segantini.
7. Relax in the new and modern St. Moritz Swimming pool and Spa or in the smaller and cosy wellness centers of Samedan and Pontresina.
IN THE NEARBY REGION
1. Engadin ski pass - a unique ski pass to use pubblic trasport and to ski on the diffrents slopes areas of the valley, Corviglia, Diavolezza, Corvatsch and more.
2. Save the date of the country Ski Marathon one the frozen lakes of Engadin.
3. Reach Muottas Muragl the best panoramic point of St. Moritz and the Engadin.

4. Book a ticket of the Glacier express or the Bernina Express.
5. Friday night skiing on the slopes of the Corvatsch ski area.
6. Ski trail, Freeride, MTB and Trekking around Engadin.
---
WHERE TO SLEEP IN ST. MORITZ - HOTELS, B&B, APARTMENTS
St. Moritz is a mountain luxury resort and offers a lot of hotels and holiday houses. It is possible to find an accomodation also in others villages of Engadin.
Thanks to pictures, facilities informations and reviews, You can check easly the availability of Hotels, B&B and Holiday Houses in St. Moritz and Engadin and book the best solution for You, using this link:
BOOKING - HOTELS B&B HOLIDAY HOUSES IN ST. MORITZ
---
HOW TO GET TO ST. MORITZ AND WHITE TURF
Located in Switzerland the center of Engadin valley, St. Moritz is reachble by car and is connected by pubblic busses. It is possible to reach St. Moritz also by train from Thusis with the Glacier Express, or from Tirano (IT) with the Bernina Express.
White Turf is usually in Febraury and is located on the frozen lake of St. Moritz.
It's advisable to take the moving stairway from the centre of town, next to Badrutt's Palace which will bring you directly down to the lake. Parking maybe very limited especially on the last Sunday, so we advise you to arrive well ahead of time or to park in St. Moritz Bad and then, to either walk or take a bus (10 minutes on foot).
FLIGHT CONNECTIONS: Check here for your flight on:
ZHR - Zurich airport 3,00h
MXP - Milan Malpensa airport 3,00h
LIN - Milan Linate airport 2,45h
St. Moritz Engadin has a small airport located in Samedan available for private jets only.
---
DON'T MISS THIS EVENT OF THE ALPS
SAVE IT NOW. It is Easy! Just Log-in your MyAlps personal area and then Add it to your MyExplorAlp Wishlist using the follow botton:
Are You not registered to Myalps yet? Do it here: MyAlps
---
DO YOU HAVE QUESTIONS OR SUGGESTIONS ABOUT WHITE TURF IN ST. MORITZ?
CONTACT US NOW or let Your precious comment or suggestion in the follow Comment Form of this page.