GLACIER EXPRESS TROUGH SWITZERLAND FROM ST. MORITZ TO ZERMATT
This incredible train journey, is really and emotional adventure, that takes you a little over 8 hours and gives you a taste of the most stunning views in the Swiss Alps.
An unforgettable day trip rolling through untouched mountain scenes : majestic glaciers, snow covered peaks, thick woods, rushing streams, luxury resorts, deep gorges and delightful valleys.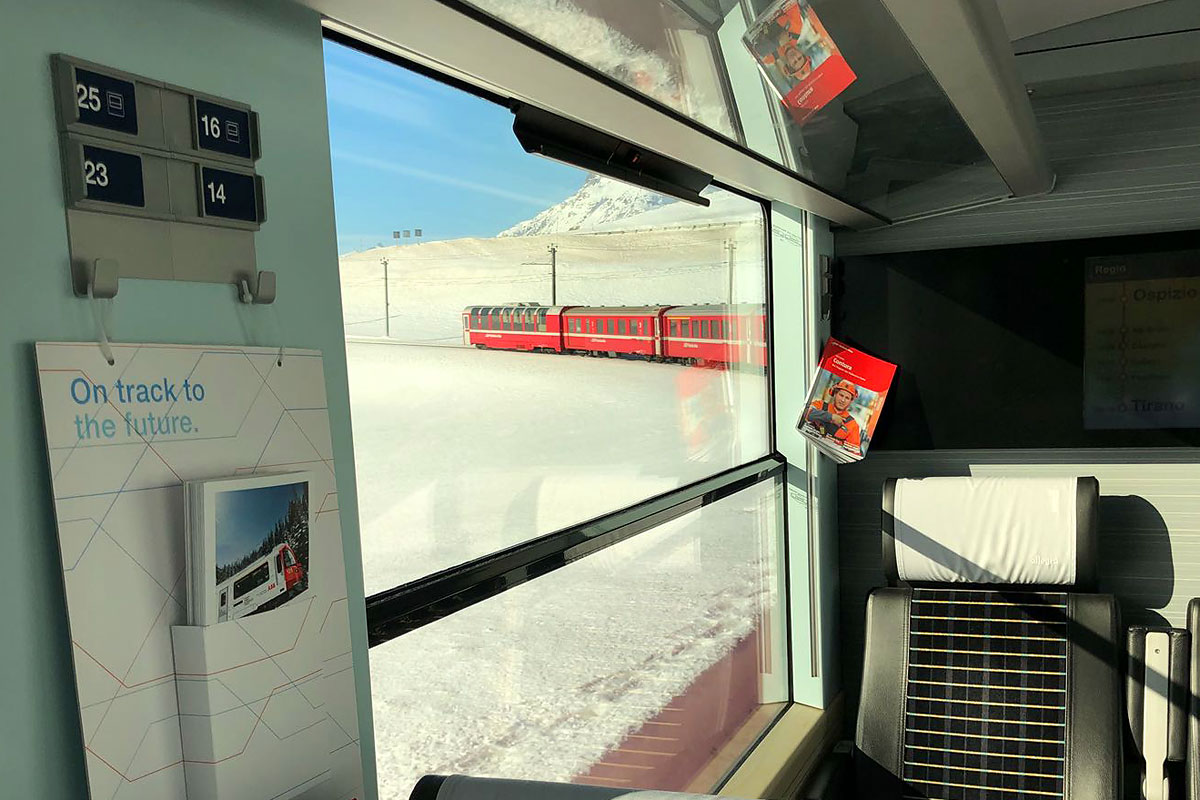 The Glacier Express train trip goes from St. Moritz to Zermatt and back.
We left St. Moritz at around 9:15 in the morning and arrived at Zermatt after aprox. 8 hrs. The train has a few stops but there is no need to change train during the trip.
There are audio guides in various language on board. Lunch is served directly at your seat.
It is recommended that you book online. The trip we took involved the following: St. Moritz, 'Albula Pass, Chur, Disentis, Oberalp Pass, Andermatt, Furka Pass, Brig, Visp, Zermatt.
In order to fully appreciate the two towns, we advise you to book at least 2 nights in both St. Moritz and in Zermatt.
---
EXCLUSIVE EXCURSIONS ON THE GLACIER AND BERNINA EXPRESS
INFO AND BOOKING
---
WHERE TO SLEEP IN ST. MORITZ AND ZERMATT- HOTELS, B&B, APARTMENTS
St. Moritz and Zermatt are mountain luxury resorts and offer a lot of hotels and holiday houses.
Thanks to pictures, facilities informations and reviews, You can check easly the availability of Hotels, B&B and Holiday Houses in St. Moritz and Zermatt and book the best solution for You, using this link:
BOOKING - HOTELS B&B HOLIDAY HOUSES IN ST. MORITZ
BOOKING - HOTELS B&B HOLIDAY HOUSES IN ZERMATT
---
DON'T MISS THIS ITINERARY OF THE ALPS
SAVE IT NOW. It is Easy! Just Log-in your MyAlps personal area and then Add it to your MyExplorAlp Wishlist using the follow botton:
Are You not registered to Myalps yet? Do it here: MyAlps
---
DO YOU HAVE QUESTIONS OR SUGGESTIONS ABOUT GLACIER EXPRESS?
CONTACT US NOW or let Your precious comment or suggestion in the follow Comment Form of this page.