007 BUNGY JUMPING - VERZASCA DAM
Taken from the original James Bond film "Goldeneye" where Pierce Brosnan, made the infamous dam jump, it was a 220m drop and an incredible world record.
This key scene was shot exactly here: Verzasca Dam – Maggiore Lake area. An amazing jump of 220m from the big Val Verzasca dam, in the tessin region.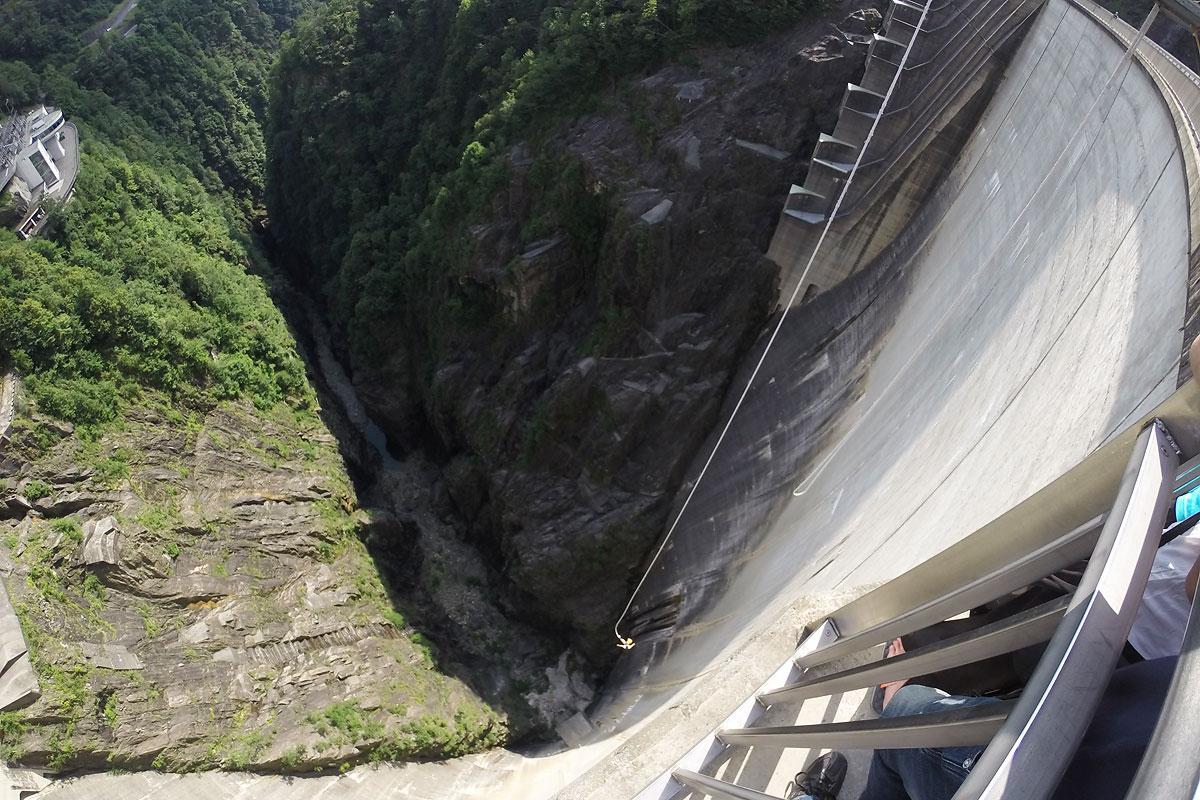 This experience is available from April to October. Choose your crazy jump full of adrenaline among different levels:
Normal classic jump, Backwards jump, Night jump and just for expert the 007 "Ultimo" jump.
---
WHAT TO DO AND VISIT IN THE VERZASCA VALLEY AND IN THE NEARBY REGION
IN THE VALLEY:
1. Take a rest on the highest dam in Europe (220m), where, if you are lucky, you may be able to see ( or do) the famous 007 bungee jumping.
2. Enjoy a swim in the inviting river waters. The most beautiful and renowned spot is in the town of Lavertezzo.
3. Have lunch in one of the many typical local Grottos of Verzasca valley.
4. Participate in an excursion on the famous Sentierone path.
5. Canyoning adventure to take the greatest advantage of this amazing river see.
IN THE NEARBY REGION:
1. Book an excursion to Brissago island by boat.
2. Take a day trip to the Maggia valley.
3. Visit the Unesco heritage site at Bellinzona's castles.
4. Discover the Cardada day trip.
5. Drive on the panoramic road of the Maggiore lake.
6. Visit Arona, Stresa and the Borromean islands.
7. Don't miss Ascona the peral of Lake Maggiore.
8. Reach the panoramic sanctuary of Madonna del Sasso above Locarno.
---
WHERE TO SLEEP IN THE VERZASCA VALLEY - HOTELS, B&B, APARTMENTS
The Verzasca Valley offers some hotels B&B and holiday houses. It is possible to find an accomodation in the Valley or in the panoramic villages of Lake Maggiore.
Thanks to pictures, facilities informations and reviews, You can check easly the availability of Hotels, B&B and Holiday Houses in the Verzasca valley and book the best solution for You, using this link:
BOOKING - HOTELS B&B HOLIDAY HOUSES IN THE VERZASCA VALLEY
---
HOW TO GET TO THE VERZASCA VALLEY

The Verzasca valley is located on the north side of Maggiore lake, Highway exit Tenero, near Locarno.
By bus: Departure on the hour from the post bus station at Locarno, the Bus stop at the Dam.
FLIGHT CONNECTIONS: Check here for your flight on:
ZHR - Zurich airport 2,30h
BSL - Basel airport 3,00h
MXP - Milan Malpensa airport 1,30h
---
DON'T MISS THIS ACTIVITY OF THE ALPS
SAVE IT NOW. It is Easy! Just Log-in your MyAlps personal area and then Add it to your MyExplorAlp Wishlist using the follow botton:
Are You not registered to Myalps yet? Do it here: MyAlps
---
DO YOU HAVE QUESTIONS OR SUGGESTIONS ABOUT 007 BUNGY JUMPING?
CONTACT US NOW or let Your precious comment or suggestion in the follow Comment Form of this page.