STEIN AM RHEIN MEDIEVAL VILLAGE ON THE RHINE
Stein am Rhein is one of the most beautiful and well preserved medieval towns in Switzerland, famous for its splendid frescoed houses and characteristic alleyways and views.
Stein am Rhein is a small pearl offering a rich combination of art, culture and nature, magnificent house façades embracing the town square and generous choice of gastronomic specialities.
The town is set in a unique landscape, where Lake Constance (Bodensee) once again becomes the Rhine. The entire old town is pedestrian so it's really nice to take a walk away from the traffic.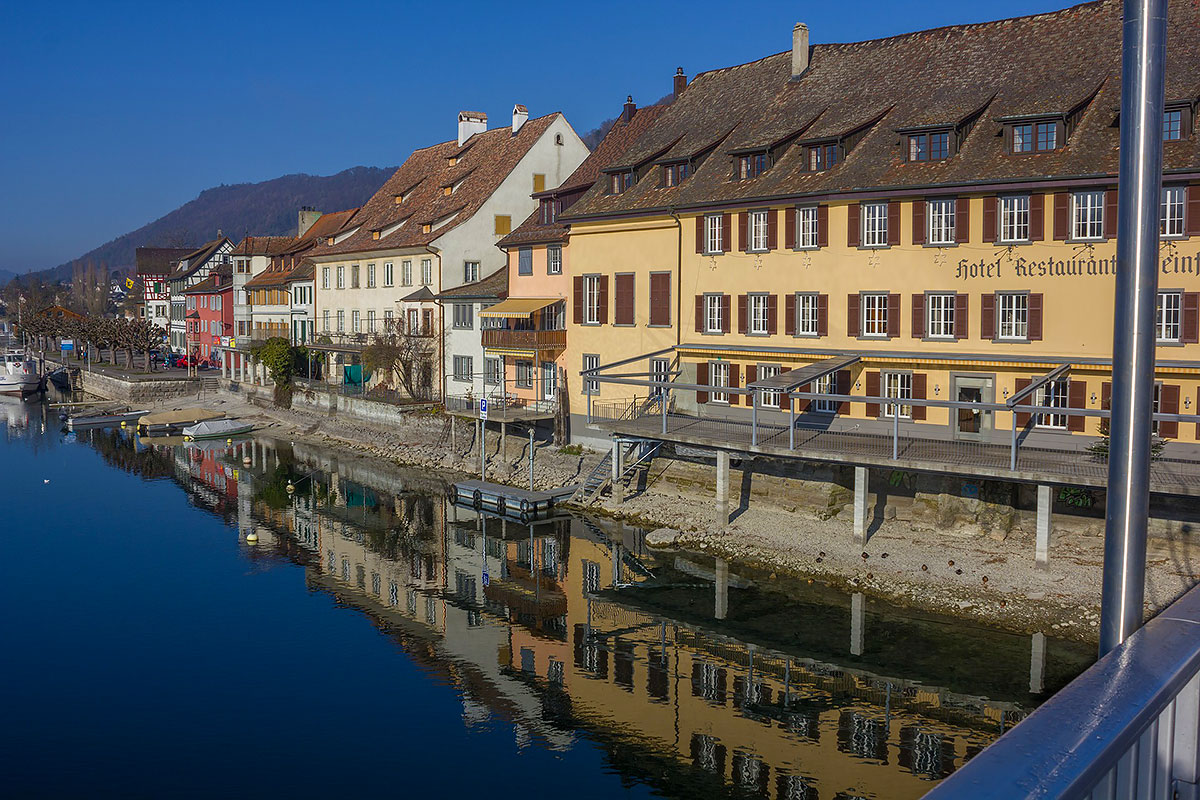 "Stein am Rhein. Open air Works of art where Lake Constance becomes the Rhine."
High above, overlooking the old town, lies Hohenklingen Castle, which offers a magnificent view of the Rhine, Lake Constance and the colourful, labyrinth like, town.
In summer, Stein Am Rhein can also be reached by scheduled boats from Schaffhausen to Kreuzlingen. A good starting point for a trip on the river or lake.
This region is also a great place to go cycling and walking thanks to the numerous cycle paths that connect the main tourist attractions.
CLOSE TO OUR HEARTS
"The medieval Facades of the little square and the good breakfast served in a garden beside the Rhine river."
---
WHAT TO VISIT IN STEIN AM RHEIN AND IN THE COSTANCE LAKE REGION
IN THE VILLAGE:
1. Walk through the historical centre, a medieval pedestrian area.
2. Visit and enjoy a dinner in the Hoenklingen Castle, well preserved castle on the top of the hill of Stein am Rhein. Museum and good restaurant Burghohenklingen.
3. Visit the Benedictine Abbey of St. Georgen.
4.Walk or bike beside the Rhine river.
IN THE NEARBY REGION:
1. Rhine Falls waterfalls, spectacular attraction of the nature.
2. City of Constance, the capital of the Bodensee - Lake Constance.
3. Don't miss the medieval village of Meersburg.
4. Enjoy a Boat trip on the Lake Constance and the Rhine River.
5. Discover the colorful Garden of the Isle of Mainau.
6. Relax in the Uberlingen Therme, Bath and Sauna in front of the lake.
WHEN TO VISIT STEIN AM RHEIN
We spent some days in this beautifull village in September, with a perfect temperature to enjoy a dinner of local fish sitting in the main square.
We suggets a visit from April to October and during the Christmas time.
---
WHERE TO SLEEP IN STEIN AM RHEIN - HOTELS, B&B, APARTMENTS
Stein am Rhein is a small village and offers fewer hotels and holiday houses. It is possible to find an accomodation also in others villages of Bodensee Constance lakes and to reach Stein am Rhein for a day trip.
Thanks to pictures, facilities informations and reviews, You can check easly the availability of Hotels, B&B and Holiday Houses in Stein am Rhein and book the best solution for You, using this link:
BOOKING - HOTELS B&B HOLIDAY HOUSES IN STEIN AM RHEIN
---
HOW TO GET TO STEIN AM RHEIN
Stein am Rhein is located in Switzerland in the Swiss part of Lake Constance. It is easily accessible by train or boat from all the main attractions on Lake Constance.
If you arrive by car we recommend parking outside the village.
FLIGHT CONNECTIONS: Check here for your flight on:
ZHR - Zurich airport 0,45h
FDH - Bodensee airport 1,20h
---
DON'T MISS THIS VILLAGE OF THE ALPS
SAVE IT NOW. It is Easy! Just Log-in your MyAlps personal area and then Add it to your MyExplorAlp Wishlist using the follow botton:
Are You not registered to Myalps yet? Do it here: MyAlps
---
DO YOU HAVE QUESTIONS OR SUGGESTIONS ABOUT STEIN AM RHEIN?
CONTACT US NOW or let Your precious comment or suggestion in the follow Comment Form of this page.