MAINAU ISLAND THE QUEEN OF THE FLOWERS
The Island of Mainau, only a few kilometres from Constance, is one of the most unforgettable attractions for garden lovers.
Surrounded by the blue waters of Bodensee (Lake Constance), the Island is an explosion of colour and floral species along with having a butterfly house and numerous palms.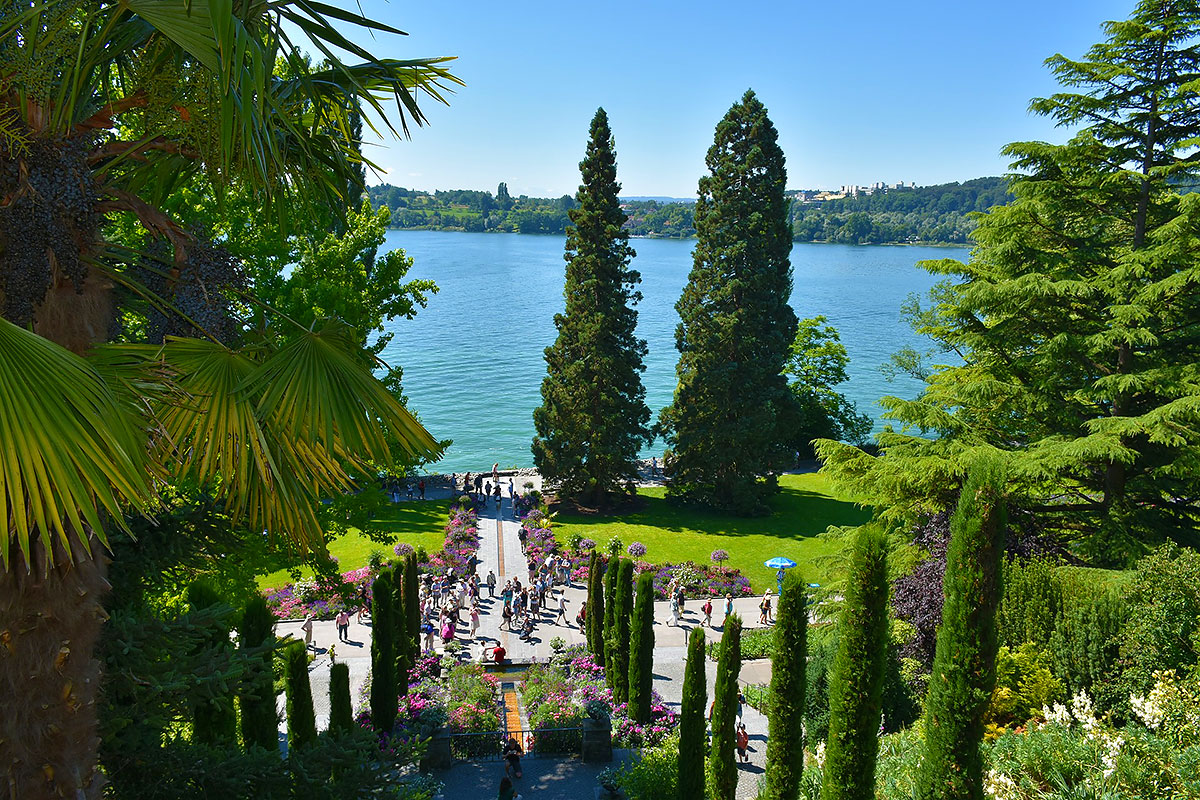 The most unforgettable attractions for garden lovers.
Verify the best period to visit the gardens directly on the official website.
CLOSE TO OUR HEARTS
"Flowers, Plants, Colours and the beautiful Lake"
---
WHAT TO VISIT IN MAINAU AND IN THE NEARBY CONSTANCE LAKE REGION
ON THE ISLAND:
1. Walk through the colorful Gardens.
2. Visit the Butterfly house.
IN THE NEARBY REGION:
1. Rhine Falls waterfalls, spectacular attraction of the nature.
2. City of Constance, the capital of the Bodensee - Lake Constance.
3. Don't miss the medieval village of Meersburg.
4. Enjoy a Boat trip on the Lake Constance.
5. A dinner beside the Rhine in the little medieval Stein am Rhine.
6. Relax in the Uberlingen Therme, Bath and Sauna in front of the lake.
---
WHERE TO SLEEP CLOSE THE MAINAU ISLAND - HOTELS, B&B, APARTMENTS
Mainau island is a private property and doesn't offers any accomodation. It is possible to find easly an accomodation in the city of Constance or in the others villages of Bodensee Constance lakes and to reach the Mainau island for a day trip.
Thanks to pictures, facilities informations and reviews, You can check easly the availability of Hotels, B&B and Holiday Houses in Constance and in the Bodensee region and book the best solution for You, using this link:
BOOKING - HOTELS B&B HOLIDAY HOUSES IN CONSTANCE AND IN THE BODENSEE REGION
---
HOW TO GET TO THE MAINAU ISLAND
The Mainau island is located in the German part of Lake Constance (north side).
Daily ferries connect the Mainau Island and the medieval village of Merrsburg, or you can reach the island by car from the city of Constance.
If you arrive by car we recommend the big parking areas in front of the main bridge of the island.
FLIGHT CONNECTIONS: Check here for your flight on:
ZHR - Zurich airport 1,00h
FDH - Bodensee airport 1,20h
---
DON'T MISS THIS SITE OF THE ALPS
SAVE IT NOW. It is Easy! Just Log-in your MyAlps personal area and then Add it to your MyExplorAlp Wishlist using the follow botton:
Are You not registered to Myalps yet? Do it here: MyAlps
---
DO YOU HAVE QUESTIONS OR SUGGESTIONS ABOUT MAINAU ISLAND?
CONTACT US NOW or let Your precious comment or suggestion in the follow Comment Form of this page.