RIFUGIO MENAGGIO A BALCONY ABOVE THE COMO LAKE
Rifugio Menaggio is located near the Grona Mountain, one of the most amazing panoramic points of the Como Lake. You can enjoy an incredible landscape view from the top of Lario to Lecco, with the beautiful Bellagio peninsula in the center.
The view is framed by the eastern mountains of the Como Lake, Mount Legnone, the Grigna, Grignetta and the peaks of the Larian triangle. Rifugio Menaggio (1383m) is open almost all year round and can only be reached on foot, starting from the Breglia Mounts above Menaggio (about 1,30 hours walk).
"This refuge was the last stop of our long trekking in 2000. We left Valchiavenna at the end of March and walked for 4 days to the Rifugio Menaggio. We have come back here other times and this small refuge combines a rustic style with a unique view of the Como Lake. The walk from the Breglia mounts is great for a day trip. If you want to go there, we recommend reaching the peak of Mount Grona "
Fabio and Paolo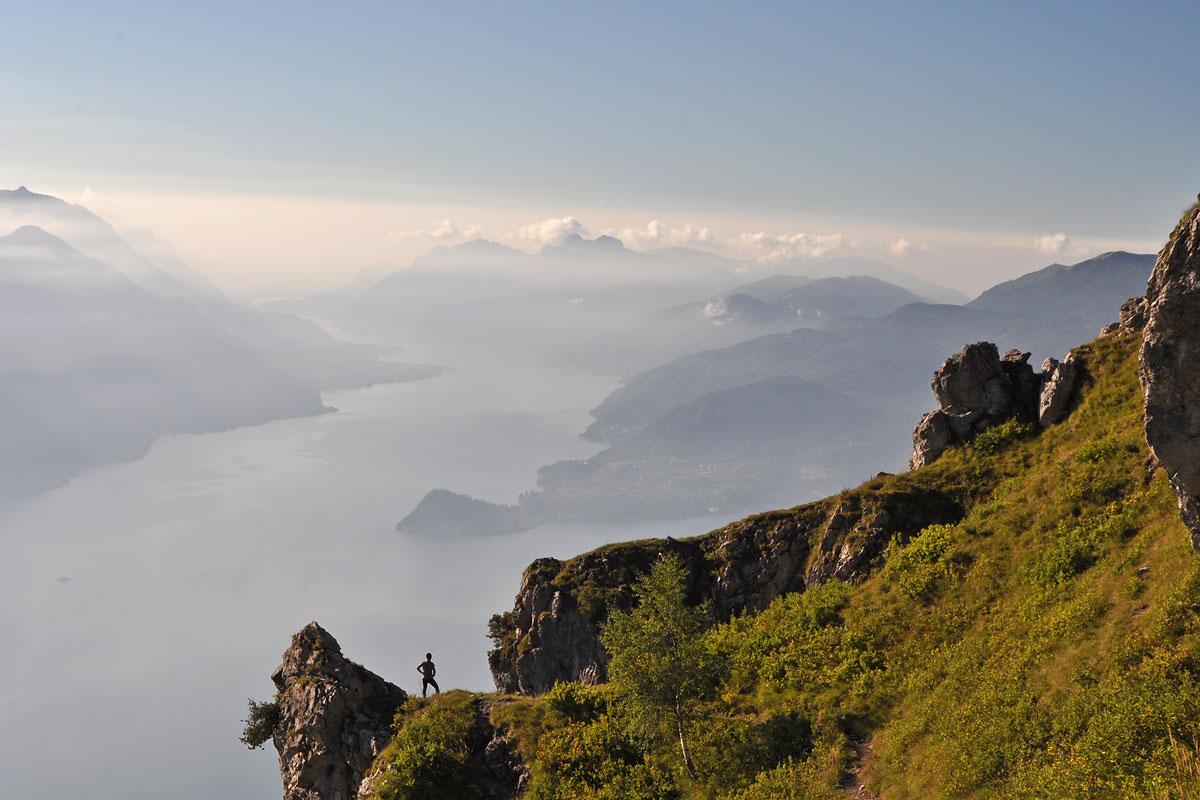 The facility is well organized and is great for a day trip or as a resting place for hikers of the Via del Lario and visitors to the climbing routes and via ferrata (Del Centenario route) of Mount Grona. From the refuge, you can reach the peak of the Mount Gona following the easy main route. You can also continue northwards on the panoramic ridge up to the peak of Mount Bregagno.
---
WHAT TO DO AND VISIT NEARBY THE RIFUGIO MENAGGIO
NEARBY THE RIFUGIO MENAGGIO
1. Stay at the "Rifugio Menaggio" and enjoy one of the most incredible views of the Como Lake.
2. Reach the Mount Grona peak following the easy main route (1,30 h) or the via Ferrata "Del Centenario".
3. Follow the long panoramic ridge up to the top of the Bregnagno Mount (3h).
4. If you love long, uncrowded hikes, venture along the western Alta Via del Lario to Valchiavenna.
IN THE NEARBY AREA
1. Visit by boat the villages of the Como Lake: Menaggio, Bellagio, Varenna, and Lenno.
2. Enjoy a perch risotto and the typical Misultin of the Como Lake.
3. Discover the gardens of Villa Carlotta and Villa Balbaniello.
4. Paragliding, kitesurfing, windsurfing, and sailing in the Alto Lario.
5. Relax at the Lenno beach and on the beaches of Sorico and Gera Lario.
6. Reach the Belvedere di Sighignola, the summit of the Val d'Intelvi, on the border with Switzerland.
7. Boat trip from Ossuccio to the island of Comacina.
8. Culture and history in the area of Colico, visit the fort of Montecchio, the abbey of Piona and the Bellano horrid.
9. Discover the routes and the beauties of the Lake Lugano area.
INFO AND BOOKING RIFUGIO MENAGGIO - OFFICIAL PAGE OF Mountbnb